Wetsuit
A good wetsuit fits like a second skin. It's very important that you choose a wetsuit that fits your likes and needs. A good wetsuit fits smooth around the curves of your body and keeps you warm at all times. A wetsuit is made out of neoprene. Kitemana has a wide variety of wetsuits to make sure you will find the perfect fit. Want to know more about wetsuits? Read more »
Intro Wetsuit
A good wetsuit fits like a second skin. It's very important that you choose a wetsuit that fits your likes and needs. A good wetsuit fits smooth around the curves of your body and keeps you warm at all times. A wetsuit is made out of neoprene. Kitemana has a wide variety of wetsuits to make sure you will find the perfect fit. Want to know more about wetsuits? Read more »
Buying a wetsuit online
In many places around the world, a wetsuit is a must when kitesurfing. A wetsuit is a type of suit that protects you from the cold during your session. The wetsuit also protects you against annoying chafing, for example. We at Kitemana know better than anyone that there is an incredible range of wetsuits on the market, with different types, sizes and thicknesses. It is very important that your wetsuit fits properly and meets the conditions that you set for the wetsuit. To make this as easy as possible for you, we have written a page that tells you all the ins and outs about the wetsuits available on the market. At Kitemana we have many wetsuits in stock that are immediately available. If the wetsuit you want is not in stock, we can of course order it from our supplier so that we have it in our megastore in Noordwijk as quickly as possible.
Read everything you need to know about wetsuits below:
Hoe werkt een wetsuit?
If a wetsuit fits properly, a small layer of water will sit between you and the neoprene. This water is heated by your own body temperature, keeping you nice and warm. If your wetsuit is nice and tight, the wetsuit insulates better because it can retain heat better. A suit that is too large will make the layer of water between you and your wetsuit too large, meaning that you will no longer have time to warm up the layer of water.

What makes a wetsuit good then? A good wetsuit has the best of all four worlds: warmth, flexibility, durability and fit. There are many different brands, each using its own unique features and materials to get the best of all four worlds in the wetsuit. For example, Mystic uses Yamamoto neoprene and Prolimit uses Airflex neoprene. Features such as seam tape and inner lining also help the wetsuits to get better warmth, flexibility, durability and fit. The tricky thing here is that one part can have the upper hand over the other, causing it to lose its functions. Suppose a wetsuit has a thicker inner lining, then it will be warm, but less flexible. It also depends on the sport and the conditions you want to kitesurf in which wetsuit you should have. Are you unsure about a wetsuit? Always feel free to ask us for advice. We at Kitemana have years of experience with wetsuits and know exactly what you need.
What size wetsuit do I need?
The size of a wetsuit depends on a number of factors, like your height, waist and (chest) size. As already written above, it is very important that you choose the right size for your wetsuit. The wetsuit should fit like a second skin and therefore fit as tightly as possible around your body. You want to prevent accumulations behind the knees, under your armpits and around your waist as much as possible. Another fun fact is that a wetsuit always hugs your body in the water. This is because neoprene becomes more flexible when wet. In addition, the layer of water between you and your body ensures that the wetsuit fits in the right places. Each wetsuit at Kitemana has an associated size chart that is created from the supplier's size charts. Each brand such as O'Neill, Mystic, ION and other brands have their own unique size chart that you can use to try on the wetsuit without having to go into the fitting room!

But, how do I measure the size of a wetsuit? The wetsuit size charts are not based on height alone, but also on body type. Not everyone has the same body shape, with some being tall and slim, others having broad shoulders or wide hips. To solve this, intermediate sizes have been added in addition to the standard S, M, L, XL. These sizes are marked with an extra letter, where an ST, for example, is a Small-Tall that has the width of a size Small and is longer than the standard S.

To find your perfect size you will need to measure your height, chest and waist. Measure your height from the bottom of your heels to the top of your head. The easiest way to do this is against the wall and draw a line with a pencil where your head ends. Measure the distance from the ground to the line and you have your height. You can measure the bust size by using a flexible measuring tape. Measure around the widest part of your chest, just under the armpits at the level of your nipples. Then you still need to know the waist. The waist is also easiest to measure using a flexible measuring tape. Measure the circumference just above the belly button and below the rib cage.


How thick should my wetsuit be when kiting in the Netherlands?
The thickness of a wetsuit ensures that your body receives direct protection against the water and outside temperature. The thicker your wetsuit, the better the protection. The disadvantage of a thick wetsuit is that it is a bit stiffer than a thin and therefore more flexible wetsuit. In the Netherlands we have a cold winter and water temperatures can fluctuate quite a bit. In the overview below from the KNRM you can see what the average water temperature of the North Sea is per month.


January - 5.5 degrees
February - 4.5 degrees
March - 5.7 degrees
April - 7.3 degrees
May - 11.7 degrees
June - 14.8 degrees
July - 17.5 degrees
August - 20.0 degrees
September - 19.0 degrees
October - 17.2 degrees
November - 13.0 degrees
December - 8.8 degrees
The outside temperature also plays a role in the thickness of a wetsuit. As a guideline, it is best to remember that in the Netherlands you will need a 5/3 mm suit or thicker from autumn onwards. If it gets a bit colder, you can still opt for surfing shoes, gloves and a cap. At mid-season temperatures in the Netherlands we often use a 4/3mm - 3/2mm wetsuit. If it really is summer you can opt for a shorty, but unfortunately the Netherlands does not often allow this as the sea does not warm up very quickly here. If you choose one wetsuit, we recommend a 5/3mm suit because it will keep you nice and warm during autumn and spring. However, you can still get by with this during the summer.

What are the different types of wetsuits?
There are several types of wetsuits to cover all weather conditions. In the Netherlands, the most common is the fullsuit/steamer wetsuit with long legs and arms. If you find this too warm, you can go for short legs, short arms, or both, which is also called shorty. These are often slightly thinner than a fullsuit wetsuit, so that you will not get too hot during the summer temperatures. An additional advantage is the freedom of movement. The less wetsuit you wear, the more freely you can move. A thicker suit does provide good cushioning in the event of a crash.
When choosing the right type of wetsuit, a distinction is also made in the placement of the zipper. You can place the zipper at the front or at the back! These so-called front or back zip wetsuits have their own advantages and disadvantages. A front zip offers a little more freedom of movement compared to the back zip. This is because a backzip runs from top to bottom over the entire length of the back panel, which means there is much less flex in the panel. Another additional advantage is that the zipper does not get in the way of the harness. A backzip also has a velcro closure at the neck that lets in slightly more water than the silicone neck closure of a front zip. Of course, a backzip also has its advantages. A backzip is much easier to put on thanks to the larger opening. Below is a more detailed explanation of the different types of wetsuits:
Full suit/steamer
The full suit or also the steamer is the well-known normal wetsuit with long arms and long legs. This wetsuit is mainly used in cold waters and offers sufficient warmth because your entire body is covered with a neoprene layer, which also provides extra protection if you fall. The Fullsuit is available in different thicknesses, the thickness depends on the water and outside temperature. For example, a 3mm/2mm is very suitable for the Dutch summer and late summer, which is why it is also called a summer suit or summer wetsuit. For colder temperatures, a full suit in 6mm/5mm/4mm is definitely recommended, these are even available with a cap/hoodie attached to the wetsuit for extremely cold days.
Springsuit
Our favorite summer wetsuit is the spring suit. This wetsuit has long arms and short legs, so it gives you sufficient protection against the sun and other weather conditions. The wetsuit is still nice and warm and you are less bothered by water entering your wetsuit near your shins/calves. You also have slightly more freedom of movement compared to a full suit. This wetsuit is available in 4mm/3mm/2mm.
Short arm steamer
The short arm steamer is a very popular wetsuit among wave surfers, because your arms are free you have a lot of freedom of movement and you can paddle more easily. This freedom of movement is also very nice while kiting, the wetsuit is also warmer than a spring suit and offers extra protection for your legs/knees.
Shorty
The shorty is a wetsuit with short arms and short legs and ideal for summer temperatures. The shorty is also available in a longarm version (L/S), where the arms are long and the legs are short. The wetsuit protects you slightly less than other wetsuits, so crashes will sometimes feel a bit harder. However, you do have much more freedom of movement and it offers protection for your core. Because not your entire body is covered, you will have to apply plenty of sunscreen! Men's shorties can be found
here
and women's shorties can be found
here
.
Wetsuit/neoprene jacket
A wetsuit jacket comes in many different types, for us these fall under this heading
thermal layers
. The name actually says it all, you can wear this under or over your wetsuit to ensure that you really don't get cold anymore. These thermal layers are available in thin neoprene versions of 0.5 mm up to thick jackets or vests of 5 mm that you can wear over your wetsuit. You can also use a thermal shirt as protection against the sun in a warm spot.
Long John/Short John
The Long/Short John is a wetsuit that you don't actually see that much anymore. The wetsuit is now especially popular for sailing. Your arms are completely free in the Long/Short John and the rest of your body is protected, so it provides sufficient warmth. The Short John also has short legs, making it more of a wetsuit for between your sessions.
What determines the quality of a wetsuit?
There are a number of factors that strongly influence the quality of a wetsuit. The most important factors are lining (inner lining), seams (seams) and the neoprene itself. The inner lining of a suit is important because it is in direct contact with the skin. A nice thick lining feels comfortable and keeps you warm because the water between the wetsuit and the skin can heat up better. The expensive suits usually have a thick lining on the chest and back panels to keep you nice and warm.

In addition to the lining, the seams are very important in insulating your wetsuit. There are different types of seaming and each has its own properties. The number of seams also has an effect on the properties of a wetsuit. A wetsuit with more seams makes your suit fit better, but increases the chance of leaks. Fewer seams means less chance of water getting in, but it also makes it stiffer because it will fit less well. There are different types of sewing methods. The following are the most common:


Overlock
Flatlock
Blindstitch
Cheaper seaming
The overlock method is the cheapest and easiest way. This is also the least effective way to keep water out. This method of sewing is often found at cheap manufacturers (which we do not sell) and is not used when making high-end suits. Sometimes it doesn't hurt to go out on the water with a cheap shorty in the summer, but when it gets colder we don't recommend these wetsuits. The seams can also protrude, causing serious abrasions. With Flatlock sewing, two pieces of neoprene are cut diagonally so that they slide nicely together. However, this method is not very effective because the seams are inserted through the neoprene. This means you will always have holes in your suit where water can enter. Kitesurfing with Flatlock seaming is therefore only recommended in summer temperatures.


High End seaming
Blindstitched seams are by far the best form of tying the neoprene together. Do not insert the wire all the way through the neoprene, but about half way. The inside is held together by glue and seams, which not only feels nice and soft but also provides very good insulation. The more expensive suits are often blindstitched because your wetsuit also becomes more flexible. The disadvantage of this is that it is slightly less sturdy. So put on your wetsuit a little more carefully before you go kiting. In addition to sewing neoprene, the seams are often glued with tape to make it extra waterproof. Neoprene tape ensures good waterproofing and keeps your suit nice and flexible. The most waterproof form of seaming is Liquid Taped. Your suit is 100% waterproof. Great for kiting during the colder winter months!


Kitemana Wetsuits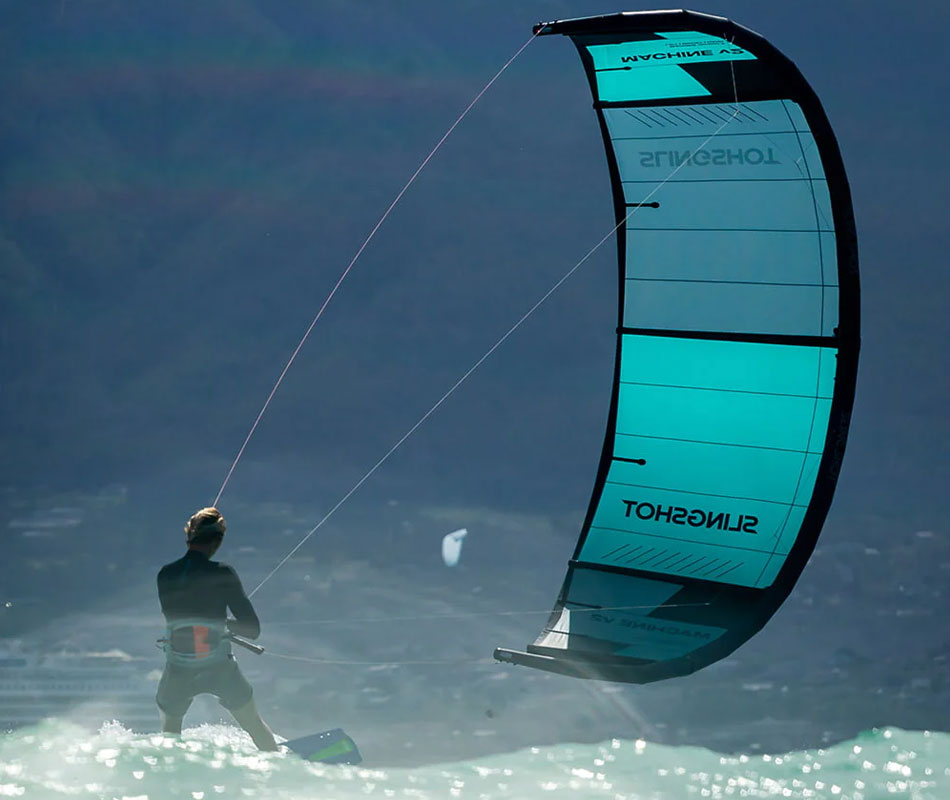 Kitemana Wetsuits
A wetsuit must fit well, that is clear. However, you can use the size chart to make a good estimate of whether a wetsuit will fit you or not. We at Kitemana have almost all sizes of wetsuits in stock. Most wetsuits are immediately available and will therefore be delivered to you the next day. If you have any doubts about the size, please call or email us for no-obligation advice. Of course you are also welcome in our kitesurfing shop in Noordwijk.
Added to basket
| | |
| --- | --- |
| Subtotal | € 0,00 |
| Shipping costs NL | € 0,00 |
| Total (incl 21% VAT) | € 0,00 |
You have no product(s) in you basket.
---
How can we help?
Contact our customer service for advice