About us
Kitemana
Kitemana is a kite shop for kiters, by kiters. All the material you need to practice this awesome sport can be found in our webshop. We sell all the top brands, for a very sharp price. From beginner to advanced pro kitesurfer, everybody is welcome at Kitemana for some advice, a good cup of kitemana coffee and of course a good deal! At Kitemana you're at the right place if you're looking for a brand new add-on for your kite quiver. We also sell older models and used kites for a nice price! Besides kites there is so much more, just have a look around.

As soon as the shop closes and it's windy outside, we "Tom, Josha, Dolf, Daan, Bart and Loek" are always on the water. Only this way we can claim for 100% that we thoroughly tested all our product before we put them online and if they match the Kitemana standard "high quality for a good price". This way we know exactly what is going on in terms of product development and of course just for the fun! 😃
Visit our showroom
For questions, advice, repairs or collecting an order or any other reason you might have, you can visit us at our showroom in Katwijk, .
Kitemana, Taanderstraat 13, 2222 BG Katwijk, The Netherlands
Open in Google Maps
Office hours: customer service and showroom
| | |
| --- | --- |
| Monday | 8:30 am - 17:00 pm |
| Tuesday | 8:30 am - 17:00 pm |
| Wednesday | 8:30 am - 17:00 pm |
| Thursday | 8:30 am - 17:00 pm |
| Friday | 8:30 am - 17:00 pm |
| Weekend | By appointment |
Different opening times apply on public holidays. We are closed on 25, 26 and 31 December and on New Year's Day. Of course you can just shop online with us these days, however, there is a longer delivery time during these period and the customer service is closed.
Our team
Our team consists of enthusiastic kiters from all over the Dutch coastline who can be found on the water as soon as the wind blows. We are addicted to the wind and as soon as the trees start to shake back and forth we get so stoked and look forward to pump up our kites and rip some waves! Sounds familiar right? Check our Kitemana team members below and what kite gear each of us has!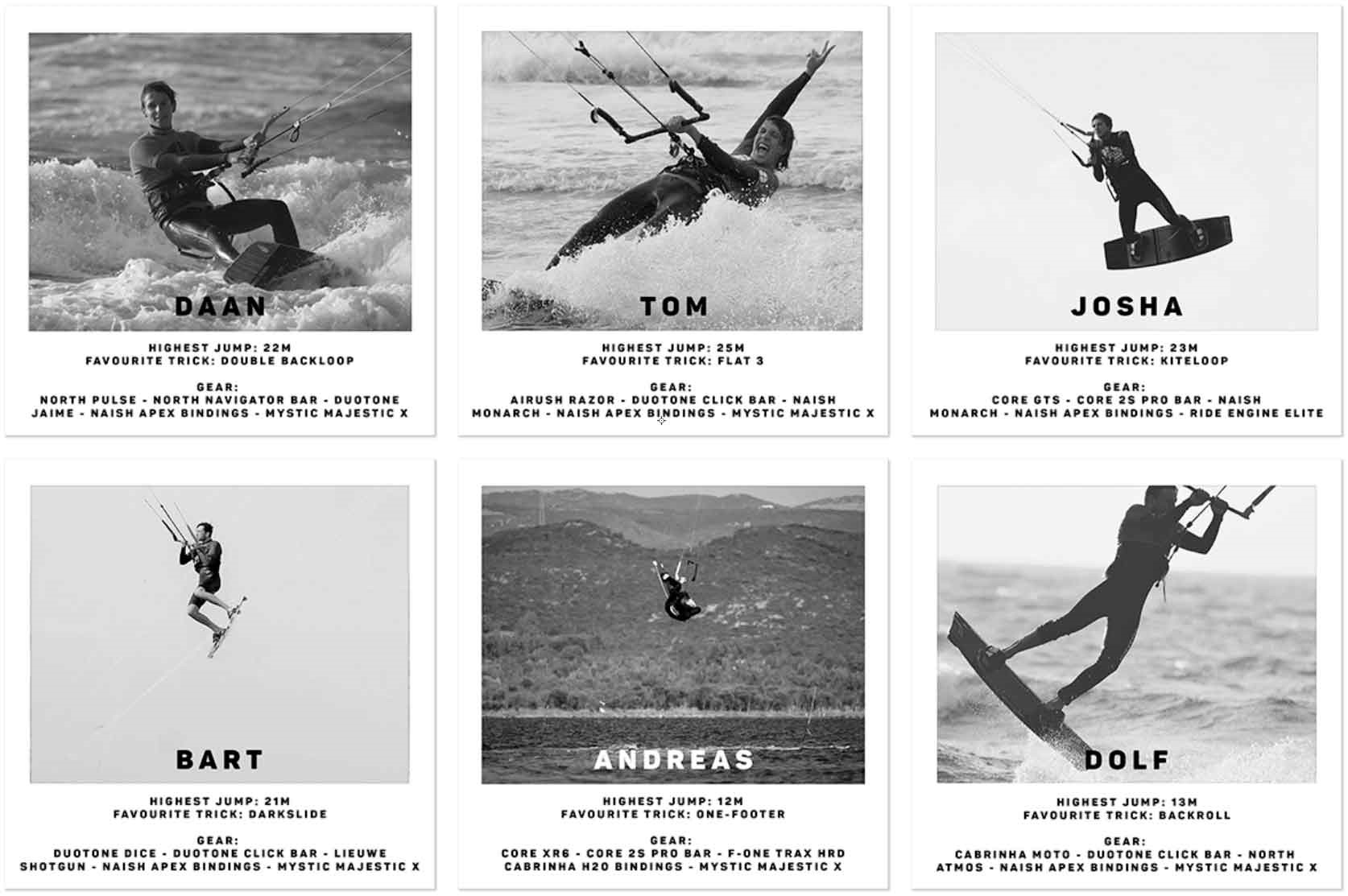 Customer satisfaction
Every customer is very important to us and we do our very best each day to satisfy our customers with our services and the products we sell. We like to invite our customers to write a review about us and the products they bought. We are extremely proud that we are rated "excellent" by our customers on Trustpilot. Below you can see some of our most recent reviews.
Coupon advantage at Kitemana
Kitemana regularly has extra discounts by releasing a coupon code. A coupon code is often communicated through one of our social media channels or within one of the weekly/monthly newsletters. Coupon code discounts are often short-term discounts. So if you don't want to miss out, we advise you to keep a close watch on all our communication channels. Do you also want to take advantage of these Coupon discounts, like us on
Facebook
,
Twitter
and
Instagram, and sign-up for our
newsletters
!
Reviews
Placing a review is highly appreciated by us. You must, however, be logged in before you can post a review. Once you have written a review our team will check your review first before we place it on our website. Your review will not be posted when one of the following applies:

- Inadequate content, for example, reviews containing one word or sentence.
- Sentences in CAPITAL LETTERS or other distracting matters.
- Providing contact information such as telephone numbers, addresses, and URLs.
- An indication of volatile information such as prices and current events.
- Use of a language other than English.
- Mentioning other (web) stores.
- Use of hurtful language.
- Demonstrable plagiarism.


Newsletter
Do you want all our latest updates, news and competitive offers at all times? Then sign up for our newsletter. Weekly/Monthly Kitemana treats you with the best offers which we only announce through our newsletter. The offers are always very sharp and valid for a limited time. Definitely worth to keep a close eye on your inbox.
Register now >>>