Kitemana is the world's largest (online) kite shop, located in Noordwijk (NL). We are the super specialist for kite sports with the largest stock of all top brands. This allows us to make every kite enthusiast - of any level - happy with tailor-made advice and the most suitable products. We ship gear anywhere in the world within 1 to 5 days.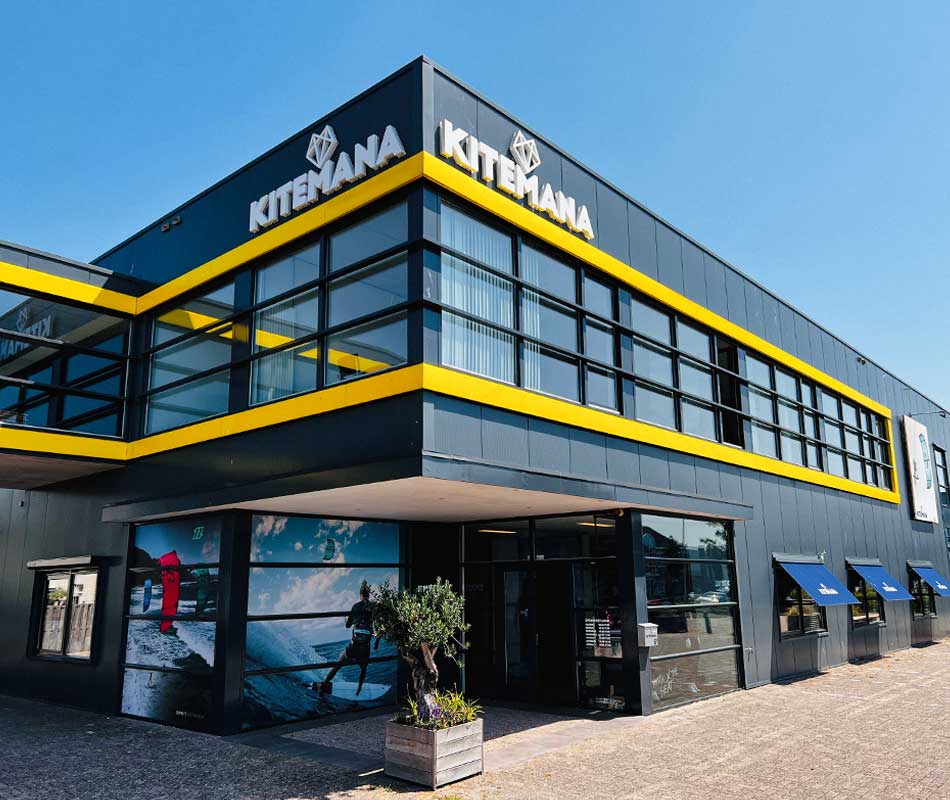 Kite-mana
Kite and Mana, the combination of these two words gives our shop its meaning. "Kite" obviously stands for the Kite sport. "Mana" comes from Hawaiian mythology and represents the life force of all good, such as love and peace. We strive for everything that is good for the kite sport. That makes us KITEMANA.
"Spread the MANA"

- As the ancient Hawaiians used to say -
Our mission
'Driven by passion, fun and loyalty to the sport, we put a smile on the face of every kite enthusiast in the world by providing everything you need to live your kite lifestyle.'
Live & breathe kiteboarding
Is it already windy? That's the first thing we think when we get up in the morning. With wind on the forecast, we clear our agendas to do what we love most: kiting! But it is about more than a hobby. It releases adrenaline in us. A kick. An outlet valve. An ultimate feeling of freedom. We are addicted to that feeling! We spread our passion like oil slick by offering everything you need for the kite sport. Our customers should not miss a day on the water!
Spread the
KITE-MANA
We are
100% Kiteboarding
We put our attention, passion and energy 100% into kiting and everything that has to do with it. We are loyal to the sport and don't let other things distract us. This focus and dedication brings us knowledge and experience that enables us to advise our customers – from beginner to professional – in the best possible way. We know what we are good at and dare to say that we are the ultimate kitesurf specialist.
Hocus pocus,
keep your focus
What you see is what you get
We do what we say and say what we do. You can expect open and transparent communication from us. Straightforward and often without a filter. We believe this works better than beating around the bush. So you can rest assured that we will be direct and honest with you when we advise you. We tell you like it is. Nothing more, nothing less. Just as it is.
No-nonsense
and unfiltered

Our team
The Kitemana team consists of passionate kiters, who breathe the sport both during and after work. What energizes us is helping you find the perfect gear so you get the most out of every session and get as stoked about the sport as we are. We think it's great that our biggest hobby is also our work and that we can make you happy with new toys. Every day we are there for you with the best advice, service and deals. We'll arrange it for you.
If the wind blows after closing time, we hurry to the beach. There we test the latest products to know and feel exactly what the developments and innovations are on the kite market. Each session we gain new knowledge and experience. This, in combination with our passion, makes us the super specialist. Moreover, we just have a lot of fun together, we laugh hard and we are attuned to each other like a well-oiled machine. We are a young, playful and close-knit team with the same passion and direct approach.
Together we are Kitemana.
Added to basket
| | |
| --- | --- |
| Subtotal | € 0,00 |
| Shipping costs NL | € 0,00 |
| Total (incl 21% VAT) | € 0,00 |
You have no product(s) in you basket.
---
How can we help?
Contact our customer service for advice